Modern Maebashi Kokeshi Dolls as Evergreen Keepsake Gifts
Why get Maebashi Kokeshi dolls?
Maebashi Kokeshi dolls have long been famous as souvenirs sold at hot-springs where a lot of high-quality wood is available. Many Japanese also believe that the Kokeshi dolls have the spiritual power to prevent fire as many of them are made with moist Mizuki wood.
Since they are handmade with natural wood and often designed with Japanese motifs such as Sakura, Mount Fuji, and autumn foliage, many local and foreign tourists also choose to get the dolls to remember their stay in Maebashi (Gunma prefecture), or get them as presents for family and friends, bringing a part of Maebashi back home.

In Japan, the Kokeshi dolls do not just function as a souvenir. With the doll evolving into modern designs in Maebashi, they can now take the shape of many characters or incorporate creative designs as well.

One of the artisans we work with has shared with us some examples of how they received special requests to create one-of-the-kind Kokeshi dolls to celebrate special occasions with their family and friends. As we document them down in the video above, you can also see how a family of three surprised each other with the handmade Maebashi Kokeshi dolls.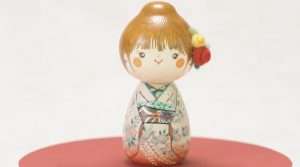 Becoming a collection that can pass down for generations
In the current fast-moving world whereby mass manufacturing has become mainstream, we are reminded of the value of handmade products. Maebashi Kokeshi dolls are created by hand with traditional techniques and look timeless. 
Just like the receivers of the dolls in the video above, these dolls can become a great memento to loved ones and can be passed down for generations as an heirloom. (Just remember to handle it with proper care! You can read our tips on caring for Kokeshi dolls here.  Not to mention, the selection we have on OKAIMONO is made by award-winning artisans!
As the wood ages over time, doll-owners get to enjoy a "new" look when admiring their Kokeshi doll collection. 
Get your own Kokeshi Doll today! 
Making an art & culture themed trip to Maebashi City 
Being the birthplace of modern Kokeshi dolls, un-painted Kokeshi dolls can also be found in Maebashi. These are created for those who wish to design their own dolls. Sometimes, the artisans hold workshops for those who are interested in hands-on doll-making sessions. 
Other than searching for Kokeshi dolls, visitors can also visit the following places in Maebashi City for more both traditional and modern art-related inspirations.
Our recommendations:
Monthly antique market at Ueno Soja Shrine
The monthly antique market at Ueno Soja Shrine in Maebashi offers a treasure-hunt chance to see bargains and valuable items brought in by antique dealers and amateurs. They are usually held on the first Sunday of each month (cancelled in the event of rain). For an updated schedule, visit their website:
https://www.net-you.com/souja/kottou.html (Japanese language only)
Address: Motosojamachi, 1 Chome-31-45, Maebashi city 371-0846,Gunma Prefecture
https://www.maebashi-cvb.com/event/8696 
SHIROIYA HOTEL
An inspirational accommodation experience where you can enjoy the architecture and love the art. The hotel was completed on the site of the Shiraiya Ryokan, which boasted a history of more than 300 years and closed its doors in Maebashi, a city that once pioneered the modernisation of Japan through innovation in the silk industry. It is now a new destination for art and food culture and acts as a living room where residents and visitors can gather and interact.
The hotel was designed by Sou Fujimoto, one of Japan's leading architects, and was created by a group of domestic and international creators who wanted to revitalise Maebashi's town centre.

Address:  2-2-15 Honmachi, Maebashi City 371-0023, Gunma Prefecture
https://www.maebashi-cvb.com/spot/8552
https://www.shiroiya.com/en/ 
F-ritz Art Center
Situated near Shikishima Park, F-ritz Art Center has a distinctive red colour dome-shaped exterior that stands out from its surroundings. They have a gallery that exhibits the original art of various Japanese artists. New and second-hand books, mainly Western and Japanese picture books, as well as posters, art goods, and official TinTin merchandise are sold here.  There is also a coffee stand on the premises, where coffee is brewed freshly everyday, and a bakery that bakes with a wood-fired oven brought in from France.
Address: Shikishimacho 240-28, Maebashi City 371-0036, Gunma Prefecturehttps://www.maebashi-cvb.com/spot/8551 
Nakanosawa Museum
This art museum is located at Mount Akagi. Run by a non-profit organisation, the museum operates based on the concept of the coexistence of nature and art. There is a diverse range of exhibitions, including sculptures, paintings, and contemporary art. The museum also organises gallery talks, concerts, and workshops with artists. Mount Akagi is well-known in Japan for its beautiful nature around the year and also has hot-springs in the area. 
Address: 249-14 Kasukawamachi Nakanosawa, Maebashi City 371-0201, Gunma Prefecture
https://www.maebashi-cvb.com/spot/1015